Today we talk to Lewis Cooper, Product Owner with over 20 years' experience delivering IT solutions and products to customers and users.
How Did I Get Here?

I started as a Developer working for a small Cambridge based product company specialising in Telco and Utility Support Systems. The company grew and eventually became a global corporation, I also grew into a customer facing role with more responsibility over large enterprise project deliveries. As a Solution Architect, I found a passion for engaging with clients and customers, getting to know their business, then seeing that through and adding real business value. It's not always an easy journey, but with integrity you gain trust and develop a long-term relationship with your customers. It's one of the most satisfying parts of the job.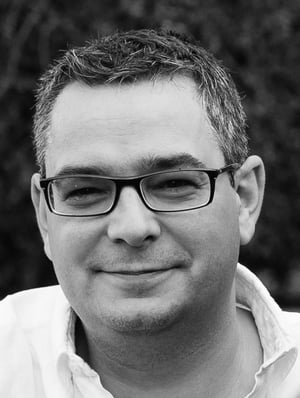 I took an opportunity to work freelance in the city with one of the major banks, it was a significant shift in career for me, but I found all the lessons I had learnt transferred perfectly to a new industry. You get the same kick working to help people regardless of the technology or the industry it's being applied to, and the challenges are often the same.
I first came to work with ThoughtRiver in late 2019 as a contractor. It didn't take long for me to get hooked and so ThoughtRiver and I agreed to make it permanent. I've never worked with such an energetic company before, everyone here cares, they go the extra mile because they are dedicated to the vision.

A Day in the Life of a Product Owner

I represent the voice of the customer for the team and it's my responsibility to make sure our product development team stay on track to meet the vision for our stakeholders. This means I get to work with the brilliant technical team at ThoughtRiver, it's a close collaboration and we are dependent on each other to make sure we achieve the best outcome.
I've worked directly alongside customers for a big part of my career, so I know how important it is to make sure the lines of communication are always open between the development team and the business teams, I make sure stakeholders know what's going on.
There's a strategy of where we want to be as a business, which I get to help build, but attention to detail on what is happening every day is also key for the team. We often fine tune our approach and that's when I need to stay on my toes and make sure we are prepared. Fortunately, I'm lucky because we have no shortage of people who take the initiative and reach out to me when its needed. It's a busy life! Seeing the results of our work is what makes me tick.
We are doing something exciting and quite rare, an opportunity to help shape the future of legal tech, I cannot wait to see what happens next.
At Home

At home I have a beautiful family who I cannot wait to see when I get home. We have 2 adopted children ages 5 and 9. They are gorgeous kids and we are so lucky to have them. We all love to go swimming together, play board games, but sometimes we just like to flake out and watch a good family movie. I'm a big fan of film and love home cinema tech. I have family ties in Madrid, and I love to watch Real Madrid play every week, sadly I can't always be there in person!