This week, our Head of Recruitment chatted with Peter Dimitrov, a key member of our Data Science team, to find out what he's working on, how his experience has been with ThoughtRiver so far and what advice he could give to other Data Scientists who are considering a career within LegalTech.
What's your role here at ThoughtRiver? What team do you work in?
I'm a Senior Intelligence Architect working in the Content squad for Dom Hudson, Co-Founder and Director, NLP & ML. This is the team driving the AI and ML R&D across the company while collaborating with the production and infrastructure teams in many data science activities.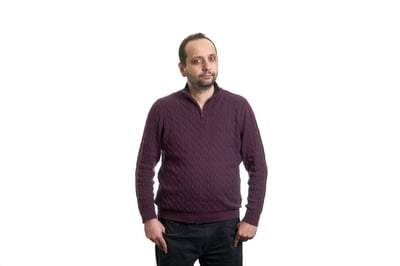 How long have you been with the company? Why did you think this was the place for you?
I've been with Thoughriver for more than a year now and can say that I'm very satisfied with the work I do for the company. Some of the highlights of my work in the past year are testing new performance metrics, comparing various versions of existing pipelines, as well as developing new R&D methods and tools for our AI tool Fathom and the content group in general. A lot of the projects include extensive collaboration as well, from requirements capturing, in-depth discussions, to presenting updates throughout the life-cycle of the project. The type of R&D work I do here closely matches my ideal of what a Data science/Machine Learning position should be.
Who did you meet at interview? What did the process consist of?
In my first interview, I met with Dom Hudson (co-founder) and Richard Moss(CTO); at the second stage I was interviewed by Tim Pullan (founder and CEO). The interviews were informal, mostly probing the understanding of key concepts and evaluating the relevant experiences rather than focusing on formal tests.
What's surprised you the most about working at ThoughtRiver?
I'd say, the speed at which decisions are made, the company is young enough not to succumb to a bureaucratic and rigid decision making.
What technologies are we using that excite you the most?
Modern ML, NLP and feature engineering tools and libraries, including our own. Incorporation of the latest trends such as Deep Neural Networks, transformers/BERT. We're constantly evaluating the latest developments in the aforementioned areas and trying to adapt them to our work. We also enjoy the freedom to search and select the best practical tools for the job.
What excites you about the project that you're currently working on?
Our ambition is to improve the prediction performance of our current model/pipeline, e.g. accuracies/F1 and other performance measures. Developing new models while applying the latest methods, technologies and software packages in the area is challenging, but also very rewarding.
What interests you about the ThoughtRiver product?
At the core of Thoughtriver product is an automation pipeline dealing with the meaning and highlighting the risks of highly complicated legal documents with enormous impact for our clients. As a data scientist, I'm motivated to improve its performance characteristics by continuously integrating state of the art, practical ML models and training methods into the pipeline.
How would you describe the leadership?
Visionary, but also very focused on the practical experiences of our company's clients at the same time.
What advice would you give a new starter coming into TR?
Prepare yourself to be challenged and to challenge others.
Tell us something we don't know about you?
I used to play in my hometown's volleyball team and would have gone to a sports academy if it weren't for maths competitions (which were equally fun). I ended up studying applied maths and AI because of them.
For open roles we are recruiting for, just like Peter, head over to our Careers page.