Alex McAdam, ThoughtRiver's first legal trainee, sits down with CEO Tim Pullan to discuss her time at ThoughtRiver and the next step in her legal career.
Tim: How have you found your training contract at ThoughtRiver Alex?
It has been a brilliant experience training at ThoughtRiver. There was an element of risk in taking me on as the first legal trainee and I am thankful to the innovators in the business who shared my enthusiasm for breaking the mould and building a varied and comprehensive legaltech training programme. I am confident that the high standard of legal training I have received at ThoughtRiver has set me up for success after qualification, including bragging rights of the added bonuses that I wouldn't have been exposed to at a traditional law firm.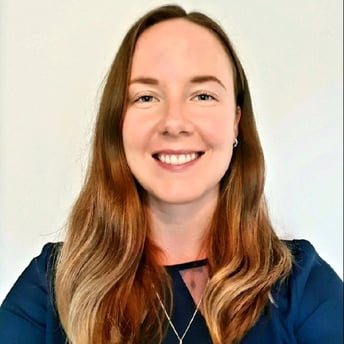 What are these "added bonuses"?
At ThoughtRiver, we are trying to answer a very specific question: how to expedite and improve the commercial contracting process. Our answer is our AI tool for legal and sales functions. Being one half of ThoughtRiver's legal function, I use our tool when contracting with customers and suppliers to supercharge the process generally (and support my training). I also contribute to the development of product features that aim to improve the contracting experience for other lawyers specifically. It is very exciting to know that the future of contracting will heavily involve technology solutions such as ours that are already transforming the legal industry.
What would you say is an advantage of training via the non-traditional route?
The "non-traditional route" can be defined quite broadly. For me, it means training in-house at a legaltech start-up within a small legal team. This specific set of circumstances has given me the opportunity over the last two years to become immersed in the everyday business and legal decisions, meaning I understand the business and its risk appetite at a granular level. At ThoughtRiver in particular, my training contract is structured to reflect the requirements of the business and to drop in as needed amongst teams, as opposed to rotating between formal seats. This agile way of working has allowed me to develop and tailor my advisory skills across a range of practice areas and for different stakeholders across departments.
What have you enjoyed most about working at ThoughtRiver?
I know it is a cliché, but the culture and people! If you are a self-starter, you will thrive here because ours is culture where everyone's opinion and contribution is valued. Start-up life is a hustle so there is a real sense of camaraderie within and between teams to achieve a common goal, often in creative ways.

In our small legal team, for example, we strive to be resourceful and accessible, and often solve legal issues by employing practical solutions. This is very rewarding, but it also means there is nowhere to hide, which can be daunting for a trainee. On the flip side, I am entrusted with a large amount of responsibility day to day within a supportive environment that encourages autonomy and values my legal judgement.
What's next for you, Alex?
I have learnt so much during my time at ThoughtRiver. I started out as a legal intern, progressed to a Customer Success Manager, and came full circle by completing my training contract, so I am ready for a new challenge. I am drawn to fast-paced, progressive organisations that harness new technologies, and a legal team that invites the challenge of navigating new conflict areas alongside fellow problem-solvers and optimists. I am looking forward to starting the next step in my career and developing my advisory and technical skills, both business and legal, in this context.

It's been a pleasure having you on the ThoughtRiver journey with us Alex for the last 4 years, stay in touch and best of luck with the next step in your legal career!