Discover three example scenarios where rapid insight is crucial in reacting quickly to external factors.
The importance of responsiveness
Every day, contracts are affected by a growing number of factors such as mergers and acquisitions (M&As), regulatory requirements, and/or new obligations or rights – factors that, if not managed appropriately, can expose a company to high levels of risk and impact profitability.
This is why digitising your contracts to allow a granular contract analysis is so important. It helps businesses to:
Quickly understand the risks and obligations contained within their contracts
Get an overview of their relationships and commitments across all of their contracts
Provide visibility into how each contract might be impacted by change
The most effective form of contract analysis enables what we call rapid insight; the ability to immediately query valuable information from contracts when needed to react quickly and effectively to any number of events, whatever the type of contract. In short, you become agile and proactive and can get on the front foot. Too often GCs are reactive to a new business need or market change and are found scrambling for the information using manual labour.
Here are three scenarios where our clients tell us that ThoughtRiver comes into its own, delivering rapid insight and, in turn, greater agility for their legal team and business.
1. M&As
Recent research suggests that the average time to close an M&A deal has risen more than 30% in the last decade. The reason behind this is that M&A transactions are becoming more complex, more expensive, and riskier than ever before.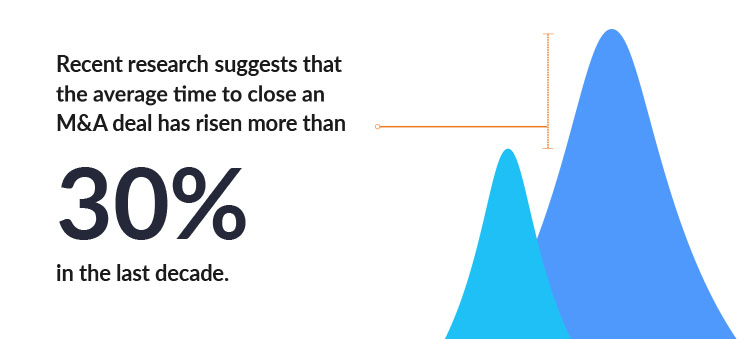 New regulations across multiple industries and jurisdictions, teamed with the increasing demands of due diligence, puts the general counsel (GC) and in-house legal teams under immense pressure to avert risk when leading deals while still managing the day-to-day churn of legal contracts that keep all businesses afloat.
This means the GC and their team need to be particularly scrupulous when looking through the contracts of the business they are acquiring. They ideally need to comb through the entire portfolio to find the obligations and positions that will become their responsibility once the takeover is complete (or even discover whether it is possible for them to take ownership of existing contracts). Unfortunately, the reality in these situations is far from ideal as the GC is too stretched to look at all the contracts, so they will either sample them all, or maybe just look at the top 10 or 20.
This is a crucial part of understanding what they are committing themselves to as part of the acquisition. One good but simple example of this might be termination rights: the acquiring company will want to know if its target's major customers all have a termination for convenience clause in their contracts. If they bought a company off the back of its amazing customer list and then two months later all of those customers walked, they would look pretty silly. Likewise, the rights to assign or vary the contract are often looked at during a due diligence exercise amongst everything else.
A rapid insight tool such as ThoughtRiver can identify these clauses, show you the position, and the contextual meaning of that position for you incredibly quickly, saving a huge amount of time. The entire portfolio of contracts can be reviewed, not just a sample. This greater accuracy in terms of both granular detail and depth of scope results in more insight, less risk, and a more complete picture for the legal team.
2. Upcoming regulation changes
Over the course of the last decade, the regulatory environment in which businesses operate has become not only more prescriptive but more intrusive too. This will not change anytime soon. Technological issues and social concerns are rising on regulators' agendas, and a number of reforms are expected in the months and years to come.
The impact on legal teams is significant. They must ensure they have the ability to analyse their companies' positions across thousands of contracts in order to understand how to respond to new regulations or major incidents.
ThoughtRiver's automated contract review technology can be taught exactly what it should be looking for and can then trawl through large volumes of unstructured data quickly to first digitise it and then present it in a structured format. This makes it extremely useful for meeting obligatory requirements, such as those set out within the GDPR, where large volumes of unstructured documents needed to be reviewed for compliance.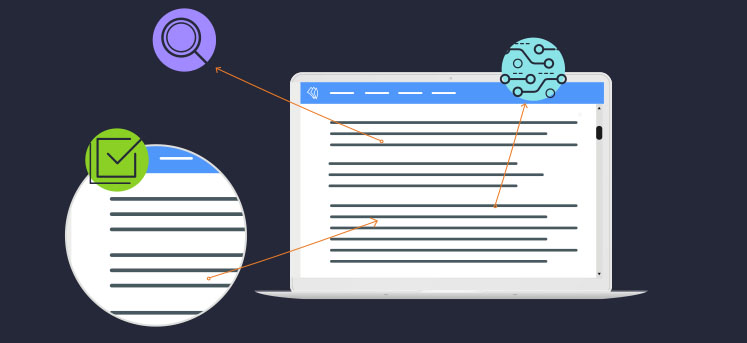 Another example is the interest rate benchmark LIBOR, which is expected to cease after the end of 2021. This is often used as a reference in contracts as a benchmark for interest rates, so any contract that references this rate will need amendment. With ThoughtRiver, finding these references can be done rapidly so that you can then look to remediate as needed.
Let us not forget the UK Government's announced proposals for retrospective changes to insolvency laws, designed to protect companies and their directors during the Covid-19 outbreak. Once this bill is rolled out, companies will need to review their contracts with suppliers and partners to assess how they will be impacted. With ThoughtRiver, there is no need to throw many paralegals into this task. Obligations and positions can be extracted from thousands of contracts within the platform in mere minutes.
The real beauty of the system is that once a contract has been reviewed, it has been digitised and that means the metadata of that contract, which in our world are all of the rights and obligations, are then available to query as needed forever while the world changes around us.
3. Day-to-day obligation tracking
A business is the sum of all contractual obligations to suppliers and customers, but keeping track of this critical information can be incredibly challenging, bordering on impossible if done manually. It is a time-consuming task, which costs companies money if not processed with the appropriate speed and diligence.
For example, each and every contract might have a different renewal or expiration date, or contain an auto-renew clause, or they might have clauses that mean prices can be raised or dropped depending on a particular algorithm or matrix.
ThoughtRiver's automated contract pre-screening technology can quickly and accurately extract any contract information that is important to the business, push those into a reporting system, and thus deliv insights that enable the legal team to understand what can or cannot be done based on a contract's stipulations. This information could also be inputted into a CLM tool or maybe just a simple alerting mechanism to keep everyone up to date and avoid those annoying contractual gotchas when you forget to do something on time, such as an auto-renew date for example. This benefits sales and procurement teams alike: sales can understand where they can raise prices or renegotiate terms. Procurement can discover opportunities to lower prices or get better deals on bulk orders, for example.
Australian firm MIA Contract Lawyers has been using the solution for some time. "What we seek to do with ThoughtRiver is extract critical information from contracts – execution date, expiration date, when renewal notices need to go out – the absolute basic information that, if not managed, will cost the company," says Martin Algie, the firm's principal.
As a result, Algie says his firm has become far more efficient. "The sky is the limit," he explains. "We can extract information on any obligations and rights, because ThoughtRiver is so flexible. We merely need to train the system appropriately."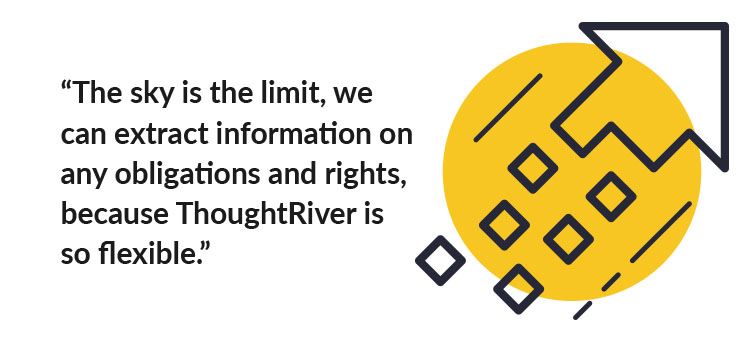 Digitisation results in rapid insights
These are just three of the use cases where contract digitisation delivers powerful benefits, and the potential for additional use cases is limitless.
Digitising contracts at the point of first review and speeding up that review and negotiation process immediately puts the GC's team on the front foot in all transactions, and importantly usually shows ROI within the first year without even looking at other use cases. So when you then couple that with the contractual insights you get from having all the obligations and rights digitised and available on demand, the business case becomes impossible to ignore.
GCs are much better positioned to react quickly, efficiently, and with confidence for the benefit of the entire business. Information is extracted once and can then be used many times over. This is in stark contrast to expensive analogue contract reviews, which will need to be performed over and over again by human review as each new situation evolves.
How much more responsive would your legal team be to the needs of the business with access to rapid insights, and how would it help drive top and bottom line growth and improved performance?
Download our rapid insights playbook to learn how you can use ThoughtRiver to give your legal team unparalleled speed and agility.