When it comes to contract negotiation, speed is of the essence. Re-think inefficient, time-consuming manual legal review and let contract acceleration take your contracting to the next level.
As the adage goes, 'time kills deals'. Despite this, the end-to-end contract negotiation process—a major part of getting deals over the line—is overly time-consuming.
Cutting through jargon-heavy contracts in search of clauses that may represent a risk requires detailed analysis and multiple revisions. Speed is of the essence, but this should not come at the expense of quality work.
Fortunately, however, attorneys and contract managers no longer need to choose between speed and quality. With contract acceleration, legal departments can move quickly with confidence—focusing on strategic negotiation, instead of reading and rereading the same jargon-heavy contract multiple times.
In this piece, we'll explore why the contract negotiation process needs to change before exploring what contract acceleration is and why it's so revolutionary.
What's the issue with manual contract review?
Ever heard the phrase "it's stuck in legal?". Unfortunately, this is commonplace throughout the business world. Deals are verbally agreed upon, with both parties excited to sign on the dotted line. Soon, however, all momentum grinds to a halt as the provisional contracts are left with the parties' respective legal departments.
And this problem is getting worse. According to Gartner, the average time it takes to close an M&A deal, for example, has risen 30% over the last decade alone.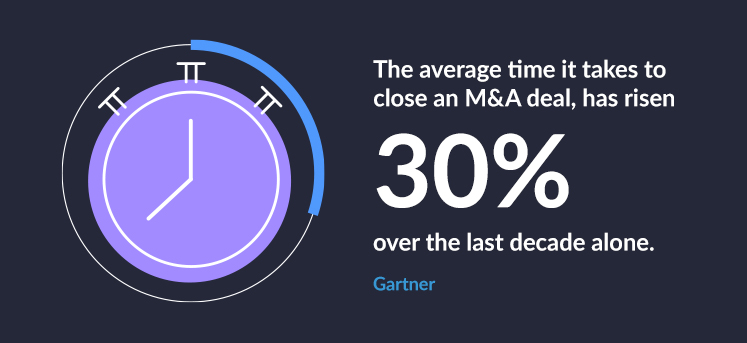 The issue here isn't with the legal department themselves. Their job is to protect the organisation from risk—hence the multiple rounds of painful revisions. Any clause that's not properly understood needs to be questioned, clarified, and then potentially renegotiated, with both parties' lawyers doing everything they can to safeguard their own organisation's interests.
Variable language not only slows this process down, but it also ensures that junior lawyers waste precious time redlining common clauses and questioning standard language. This isn't their fault—after all, they can't be blamed for their own inexperience. However, given that time kills deals, any moment wasted poses a potential threat to the deal being successfully signed.
But why is this? Well, the longer that a deal is 'stuck in legal', the longer the other party has to rethink the deal or get sidetracked by an event, like a global pandemic for example.
Financial benefits to striking the deal are often lost by the time it takes to get the deal signed, with the costs of seeking additional external help only further hampering the bottom line. When you take into account that a reported 90% of a company's annual revenue depends on the contracts that it negotiates, it quickly becomes apparent just how damaging this can be.
In all, manual contract review slows down the time it takes to finalise deals, hinders your team's productivity, affects your organisation's bottom line, and forces experienced professionals to spend valuable time re-reading the same basic clauses over and over again.
What is contract acceleration?
Contract acceleration allows attorneys to focus on valuable work, such as negotiating key clauses, instead of being mired in endless, painstaking review cycles. It allows inside counsel to move at speed, quickly unearthing key issues that need to be managed, all the while de-risking the entire contracting process.
There are multiple benefits to implementing a contract acceleration platform.
Issue management
It's long been recognised that the creation of an issues list is the gold standard when it comes to contracting. However, the process of creating and managing an issues list has historically required plenty of time and effort from all involved.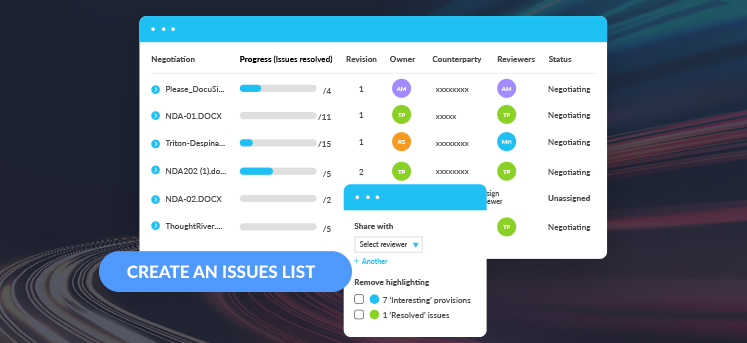 With contract acceleration platforms, however, inside counsel can use AI-based technology to instantly scour jargon-heavy contracts—pulling out the key issues that need to be resolved between the parties. Experienced lawyers can use their valuable expertise to focus on negotiation strategy, instead of to review standard clauses.
The creation of a digital issues list enables both parties to clearly identify outstanding issues that need to be negotiated, as well as affording them an easy-to-understand visual tracker of their progress.
What's more, contract acceleration platforms enable lawyers to compare language against historic contracts and against the company's own playbook. They leverage your legal department's existing knowledge, providing even the most junior layers with the contract-specific expertise that they need to get a contract successfully over the line. They crowdsource the contracting knowledge within your business.
Not only does this mean less time will be spent on low-value activities, but it also means less risk for the organisation as a whole. In other words, it's a win-win situation.
Next-level collaboration
Efficient collaboration is the mainstay of any successful legal department. With the volume of documents involved in deals expanding dramatically, it's crucial that teams stay on top of who said what, when, about which specific clause, in which particular document.
Usually, such collaboration requires endless emails back and forth. However, there's a risk that these emails get lost in the sauce, disappearing amidst an ever-increasing inbox. A contract acceleration platform, on the other hand, give legal departments a single hub where they can review, comment, and collaborate on their contracts. They can use one-click redlining to instantly query a clause, before leveraging suggested comments from the template to easily communicate potential changes.
On-hand expertise
The contract acceleration platform serves as your legal department's knowledge hub, and contract database, allowing you to compare current contracts to their historic counterparts—providing an easy way to assess whether clauses represent genuine risks or not. Reviewers can instantly assess a clause versus historic and market norms, ensuring that you're adopting an appropriate negotiating strategy.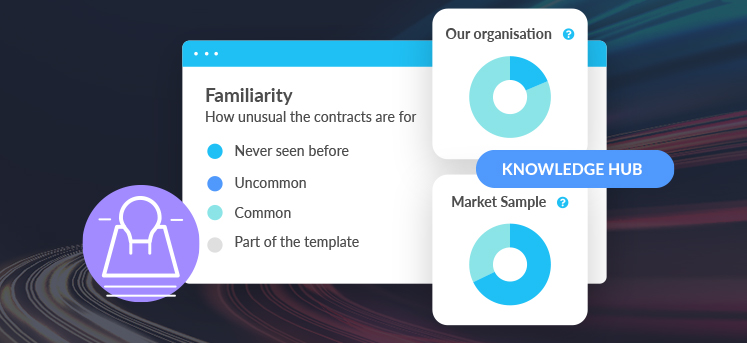 Instead of having to manually dig through historic contracts or consult with their seniors, junior lawyers can move through the contracting process in the knowledge that clauses hold up to market and historic norms. Given that an estimated 78% of companies are unable to locate at least 10% of their contracts, having this information available at the click of a button marks a genuine competitive advantage. Moreover, according to Aberdeen Group, there's a tangible link between best-in-class companies and having the ability to search all existing contracts in a searchable, central repository.
Close more deals and improve the bottom line
Time kills deals. It's crucial that you enable your legal department to move quickly with confidence, working at speed while also protecting your organisation from unwelcome threats hidden within jargon-heavy contracts.
With more deals being signed, more swiftly than ever before, the positive impact on revenue and margins for the business will quickly unfold.
Key takeaways
Faster, more streamlined contract negotiation translates into more deals agreed, more revenue for the business, and better margins.
Inside counsel has traditionally been forced to choose between speed and quality. With contract acceleration, however, that no longer needs to be the case.
ThoughtRiver's contract acceleration platform allows inside counsel to quickly and accurately pinpoint the key issues that need to be negotiated, thereby promoting effective issue management.
The platform also aids collaboration, granting even the most junior attorneys access to contract negotiation-specific expertise, speeding up the process while also reducing risk.