When the opening speaker evokes the animal spirits of Woodstock at a legal conference and no-one shifts awkwardly on their seat you fear this might be a difficult day.

But those of us that first bought into the LegalGeek brand of anti-law back in October 2016 sat easy. LegalGeek's success is founded on an infectious fusion of energy, informality, wit and openness. It has never been a place for schmaltz.

Mark Cohen's gambit in making the reference to his 1969 festival antics (girlfriend story included) in his opening talk was that he was speaking to a knowing and appreciative audience. That was definitely true. The sell-out Brooklyn edition had a hard core of Brick Lane regulars and the newbies had also bought into the vibe long before the networking coffee was over.
I had the honour of speaking at the event. The golden LegalGeek rule is no pitching - tough as a product company but most people stuck to it! So instead of focusing on our prescreening automation I talked for the first time about why we created Lexible as a byproduct of prescreening and the growing global Lexible community.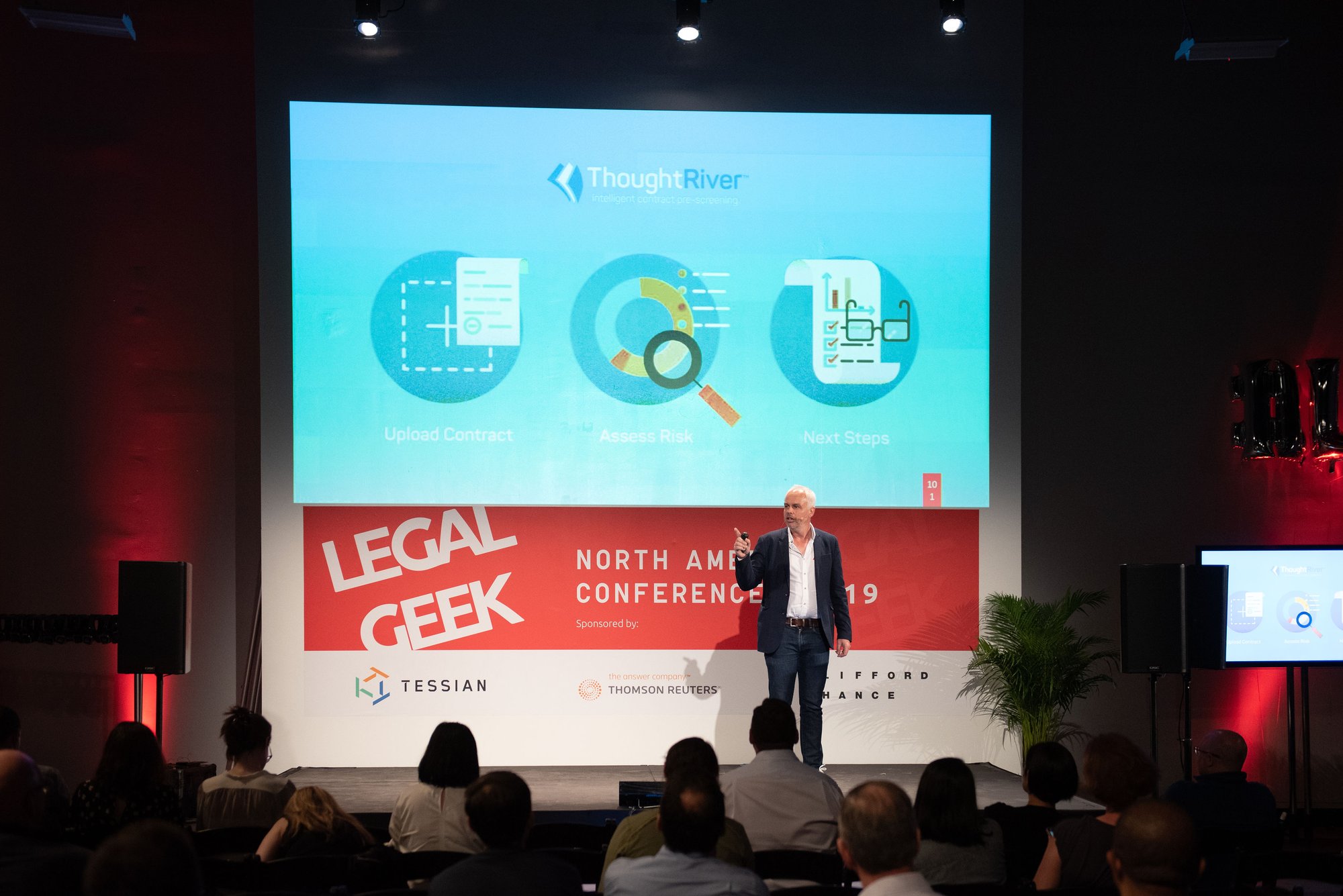 Like London, Jimmy Vestbirk managed to achieve a heady mix of big tech, startups, prominent law firm partners, General Counsel teams, law students, academics, investors and influencers. It is a genuine place to do business and learn about the market, unlike so many of the forgettable law tech conferences - and LegalGeek clone events - which have sprung up in recent years where vendors chat amongst themselves in empty stall halls.

The question for everyone was how well the LegalGeek format would travel. This inaugural NY conference did not have the scale of the London event. For example there was no room for the start-up alley - back in the early days of ThoughtRiver the alley was like manna from heaven (50 demos in a single day!). The food stalls were in a basement below, rather than embedded in the conference space. There was only the single main stage and so less of an opportunity to tailor your day based on the speakers/topics you really want to hear. But despite the smaller scale, the essential spirit of the event was there and it chimed well with the American audience.

There were too certainly too many speakers, but a lot of quality in the schedule. I really liked Nicole Bradick's (Theory And Principle) simple tips on designing software for lawyers and how to introduce change, Dera Nevin's insights on law firm adoption, Stevie Ghiassi (Legaler) on blockchain and Dan Jansen's (Nextlaw labs) advice to legal tech companies seeking VC finance. There were many other great talks I do not have space to mention here.

Roll on London!