The name is Lim. Liqian Lim. And like James Bond, I am a problem eliminator.
A little ancient astrology once upon a time...
The story of my career started when I was an infant: an astrologer advised my parents to incorporate the Chinese character for "sharp" (with reference to a knife edge), into my name. Perhaps this little detail shaped my personality, because I ended up spending over 10 years honing my negotiation skills in law, eventually building out a legal department from scratch, as Head Legal Officer for a global luxury hospitality brand.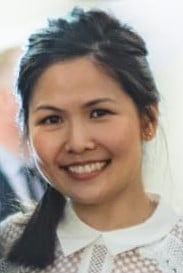 Where I found my glass slipper

Most people would have been content to remain in this role but though I enjoyed many aspects of my career, something was still missing. Having worked closely with C-Suites for years, I had observed management strategy and had become transfixed by the area of strategic growth. So, I (insanely) decided to jack in my lucrative, stable job and change my career. One life-changing MBA at INSEAD, several exploratory jobs and hundreds of informational chats later, I found my glass slipper, doing business development for ThoughtRiver, one of the top legal AI providers.
Shaping the landscape of legal work
Starting all over is never easy but I enjoy a meaty challenge and I love what I do. This role is ideal for me, marrying my drive for innovative solutions, legal background and my love of people. I never thought that I would be promoting an elixir to the most tedious issue of my past career – contract review, much less shaping the landscape of legal work alongside hugely inspiring colleagues.
Helping businesses do more, for less

Today, as Account Executive, I create value for not just ThoughtRiver but also for our customers. I love being part of the solution to the centuries-old problem of having to read through an entire document, to understand its inherent risks. Essentially, I discuss future-proofing jobs and businesses with our clients, in the current highly competitive and customer-centric environment. With businesses being forced to do more with less, practising lawyers are losing revenues and many in-house lawyers are at breaking-point. Since the law touches on all aspects of commerce, in-house legal departments in particular, are becoming choke-points for businesses. This is where I come in and try to see if ThoughtRiver can help provide a sustainable and strategic, yet practical solution.
Our pre-screening product
Our product assists contract and portfolio pre-screening and review, through a very simple interface that belies the sophisticated AI powering it. I do a lot of listening in my role, to see how our workflow-triaging software can best be integrated into customers' existing processes. This ensures that, like Goldilocks' porridge of choice, our end-solution is perfectly suited to our customers' requirements.

With today's cutting-edge AI tools, it is mind-boggling that it only took a few years for the legal tech industry get from zero, to where we are, currently. So, imagine how much more we would be able to do in a few more years, especially if we all got together and created a common database of templates, enabling rapid training of all legal AI. Also, with contract review automation, I think we would gradually move towards universal contract forms, creating vast efficiencies in business.
and finally, watch out!

All work stuff aside, one of the things I enjoy, is martial arts. I no longer train regularly but still hold a Brown Belt 2nd Dan in Northern Shaolin martial arts. If you come across a Northern Shaolin martial arts school in London and would like to train together, hit me up. (Tragically, the pun was very much intended.)