During this issue of Meet The Team we welcome Lorraine Chimbga, Contract Intelligence Executive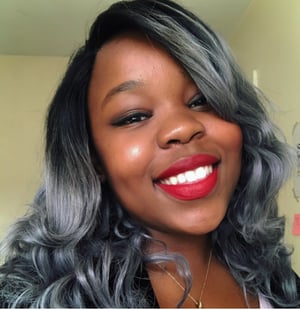 I joined TR in March 2019, and it's been an exciting ride so far! Three months in, I have been able to contribute and take the lead in exciting projects which are helping to change how we think about contracting.
A bit about my background...
Previously, I was at a fintech company. There I was part of a team who coded shareholding disclosure regulations into a SaaS solution for compliance teams within financial institutions. This was following a Law degree at UCL and Information Technology Law at LSE, where my interest in legaltech grew.

Following my time at LSE, I was awarded the Best Future International Lawyer by the International Association of Young Lawyers for my essay which focused on the future of technology and its impact on the law/legal profession. I also currently sit on the Advisory Board of the Society for Computers and Law.
Why ThoughtRiver?
I chose ThoughtRiver because it was an exciting prospect to see that a task that can take time and effort such as contract reviewing could be streamlined and made more effective by utilising the power of AI. The prospect of being able to play a part in shaping a part of the legaltech landscape was exciting, and I have already been able to do that with the work that I do.
A day in the life...
Following a stand-up in the morning I currently divide my time between two main projects. One is a client project, that involves training AI properties to read their contracts and provide an output. This is a main part of the CIE role alongside also training clients to navigate and use the platform.

I am also working on improving our relationships with education partners through the Lexible Outreach programme. As a company, ThoughtRiver believes that we should also be giving back to the next generation of lawyers and training them in the new skills that are needed in practicing law in the Digital Age. I find this prospect exciting, as a fairly recent graduate, I remember being fascinated by the growing emergence of legaltech but not really having a tangible idea of what that may entail. The outreach programme seeks to address this as it involves giving primarily law students the chance to sandbox within our environment and get some tangible experience with a legaltech product. It also connects them to a network of professionals and peers in the legaltech space.
And to the future...
I am excited to see what innovation and advances will be made within the legal profession in particular. It will take a cultural shift in such a traditional profession to eventually fully embrace the benefits that technology can bring to improving workflow and processes in particular. Similarly, it will also require legaltech companies to push beyond simply innovating standard processes. An even more exciting prospect for me is to see how truly disruptive technologies can change how lawyers work but also in a way that preserves the rule of law in the digital age.