This week we chat to Tiana Gordon our Contract Intelligence Intern who joins us for the summer of 2019.
I commenced my internship at the start of July and I am due to finish at the end of August 2019. Prior to this I studied law at the London School of Economics and Political Science, and then took the LLM Legal Practice (Solicitors) Course at BPP Law School.
I applied to ThoughtRiver after speaking to some of the Contract Intelligence ('CI') team at BPP Law fair. I always knew that I wasn't quite suited to the traditional law route, but I struggled to find an area that still incorporated law and the skills I had learnt but from a different angle. In my last two years of studying I developed an interest in technology and technology law, however I hadn't yet made the connection of exploring the legal tech industry until I was introduced to ThoughtRiver.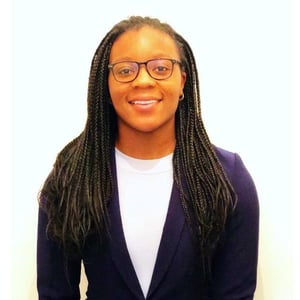 ThoughtRiver appealed to me for various reasons. The provision of legal services is something that hasn't really changed much over the years and has largely been based in tradition. The platform that ThoughtRiver provides contributes to fundamentally changing this system; something I find very innovative and exciting. Additionally, the relatively small size of the company was attractive as I thrive in environments where I can develop meaningful relationships with colleagues and work collaboratively, whilst having a true sense of responsibility and making a genuine impact.
Finally, I knew that working at ThoughtRiver would allow me to expand my understanding of technological solutions with the customer in mind, due to the client-facing elements of the CI team's work. Due to the evolving nature of the organisation, my work varies quite a lot from day to day. Between 09.00 and 09.25 I plan out what I intend to do during the day, before our daily stand-up call at 09.30. During the stand-up call the team declare and often solve any issues that are blocking their progress, if any, alongside briefly describing their plans for the day. To date the tasks I have enjoyed the most have been:creating new properties and restructuring one of the Lexible themes on the platform;conducting a gap analysis for a new prospective client;and producing material for a machine learning workshop that was held at a Legal Tech Summer School in Swansea for legal professionals.
Alongside my interest in law and technology, I am a big rugby fan; I currently play for Wasps Ladies FC.