Our Head of Recruitment and one of our fantastic Engineers met for a virtual cup of tea this week to talk about all things ThoughtRiver, the challenges of home schooling through Covid-19, what she's excited about working on right now and SO MUCH MORE!
What's your role here at ThoughtRiver? Whose team do you work in?
I'm Munazzah and I'm an Insight Engineer in the Exploration Squad here at ThoughtRiver. I report to and work closely with the VP Technology, Richard Moss, and I joined in April 2020 to help develop the company's Exploration product, focusing primarily on data visualisation. I also provide analytics support to other teams in the business and create our internal dashboards.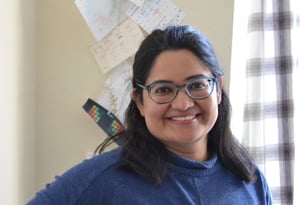 Why did you decide this was the place for you?
I worked in banking in London and I was looking for a change of industry, a smaller organisation and to be in Cambridge where I live with my husband and son. ThoughtRiver was attractive to me as I found the industry very innovative and exciting, I hadn't heard of Legal Tech before and could instantly see that they were doing super useful work in the legal space.
I'm passionate about data visualization, and when speaking with Richard at interview, I could see that he understood the value good data visualisation can add to a company. I found that the company was very clear in its vision and how my role would support it - that along with the role itself ticked all the boxes for me.
Who did you meet at interview?
I met with VP Technology, an Engineer in the technology team and the CEO, Tim Pullan. Speaking with Tim was especially helpful as I could see his passion and vision for the company.
It was a smooth interview process, I was offered the role within 3 weeks of me applying and I liked that pace, it was apparent that this is a company that moves quickly.
What's surprised you the most about working at ThoughtRiver?
That's a hard question since working at a company can often turn out to be very different from the interview stage, but there haven't been any negative surprises! The biggest difference from banking is the speed of decision making, things move quickly here, which I quite enjoy.
What excites you about the project that you're currently working on?
I'm excited about a few projects at the moment. Our customer facing exploration dashboards have a lot of potential to turn into a slick product, we've seen a lot of interest in them from customers and I'm excited to be a part of how the product evolves. My internal analytics projects directly support the company's strategic focus by providing actionable information to other teams, so I can see the impact of my work which is always exciting.
There's also the immense personal growth opportunities here. The last few months have certainly been a great learning experience.
What excites you about the ThoughtRiver product?
It's an untapped market, so there's a lot of potential for the company to grow and reach a wider market.
How would you describe the culture at ThoughtRiver?
I've worked from home since joining in April, so I'm getting to know the culture myself, but so far my experience has been that the people are incredibly friendly, they have fun but are also super focused.
How do you feel Thoughtriver have supported you through Covid-19?
The initial months of me joining were challenging as I have a 5-year-old son and a husband who works full time too. Like other parents we found ourselves trying to juggle home-schooling, childcare and work, just as I was coming to grips with a new job. ThoughtRiver and Richard specifically were very understanding, allowing me to work very flexibly which often means working unusual hours, and which I still continue to do. It's entirely output focused and if I need to do the school run or work around meeting clashes with my husband, they have been very understanding.
How would you describe the leadership?
I've had conversations with all leaders in the 6 months that I've been here and find the management team approachable, friendly and helpful. I feel empowered and heard. That exposure is important to me for my professional development.
I find the company very inclusive. The companywide 'kick off' at the beginning of each week is great for transparency and keeping everyone involved. Tim is very candid in those updates and that's helpful in feeling connected with the company's strategic direction.
Do you feel connected to your team?
My team is small but growing. It's been great to welcome Sorina to the Exploration Squad and to work with another female in the technology space.
What advice would you give a new starter coming into TR?
There's a lot to learn in a small space of time, but you find your feet quickly.
Tell us something we don't know about you?
I blog, sketch and collect lots of art supplies in the hopes of putting them to use some day!
For open roles we are recruiting for, just like Munazzah, head over to our Careers page.