On Friday 3rd April, I had the privilege of co-hosting ThoughtRiver's first webinar in partnership with F-Lex, for 50 Paralegals around the country. In these times of uncertainty, it is important to continue developing knowledge and skills in industries of interest; something ThoughtRiver is keen to help legal technology professionals do.
During the session, attendees were able to gain knowledge of artificial intelligence both conceptually and in practice. Some basic training on the ThoughtRiver platform was provided and each attendee was given bespoke access to our training platform and software for a week; enabling them to explore at their own leisure.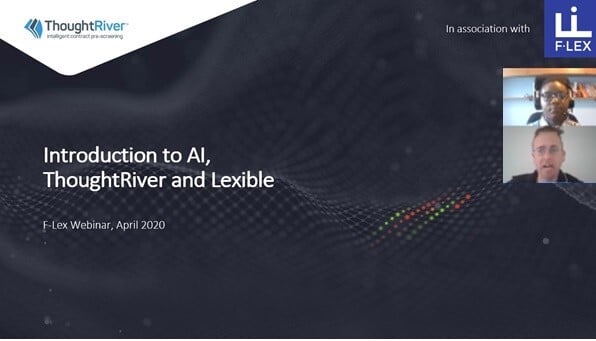 Most of the attendees created an account in our Lexible Learning Centre, to gain further knowledge, exposure to a community of like-minded individuals and become Lexible accredited. The Lexible Learning Centre presents all users with the opportunity to spark conversations and share information in an academic and practical environment, providing invaluable insight. Click here to sign up.
Due to the current climate and the success of the webinar, I feel confident that ThoughtRiver will run more webinars in the future. Watch this space!